So you've made the decision to treat your adorable pet to some beautiful beautiful pet portraits with professional pet photography, but you're wondering, "should I be in the pictures too?" Short answer – yes! Oh, you say, but I'm not really comfortable in front of the lens, and I don't really want to have to do my hair and get dressed in…what am I going to wear??? You know what? No problem!
We've encountered all those issues with pretty much every dog portrait and cat portrait we've taken, and we're here to tell you that pretty much everyone who comes to get their pet photo done with us goes through this exact same internal dialogue.
Your experience should be fun and memorable, just like hanging with your best mate is, but when it comes to capturing your likeness on camera forever….and ever….it can get a little nerve-wracking, to say the least.
Why would you tell me to be in the picture with my pet if that's the case? You're a pet photographer; you do pet photography. Why should I be in the picture too? Let us break it down for you because there are quite a few reasons why you may want to participate as more than just a spectator in your pet photography session.
We do more than just pet photography
That's right; we are more than just pet photographers.  We have quite a varied experience when it comes to photography. We also do portraits of people, as well as photoshoots at Melbourne Zoo. That means we're ready for whatever you can throw at us at each photo session. Indoors, outdoors, lots of pets in one session, lots of people and one pet in a session, whatever it is, we can handle it and make you and your pet look stunning!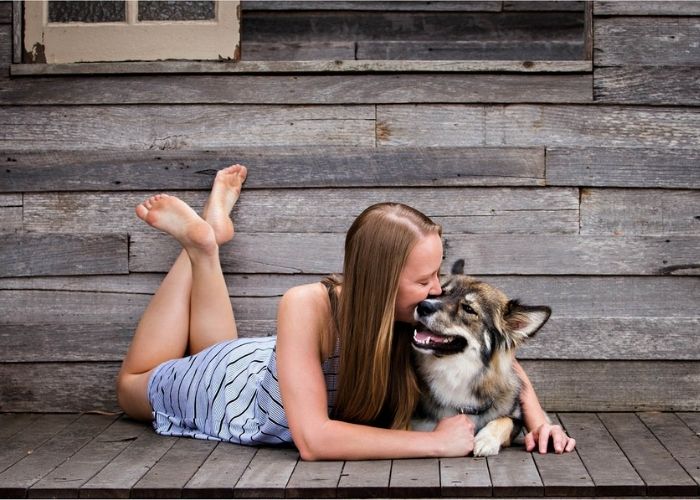 We can capture that bond between you and your pet
As a pet owner, your pet is a big part of your life, and you are a big part of your pet's life. You and your pet interact in a special way that is unique to your relationship, and that is where we thrive! We are quick on the button and can capture pretty much anything that happens during your photo shoot session. If you don't like how a picture turns out, easy, you don't have to choose that one! You'll have plenty of beautiful images to choose from.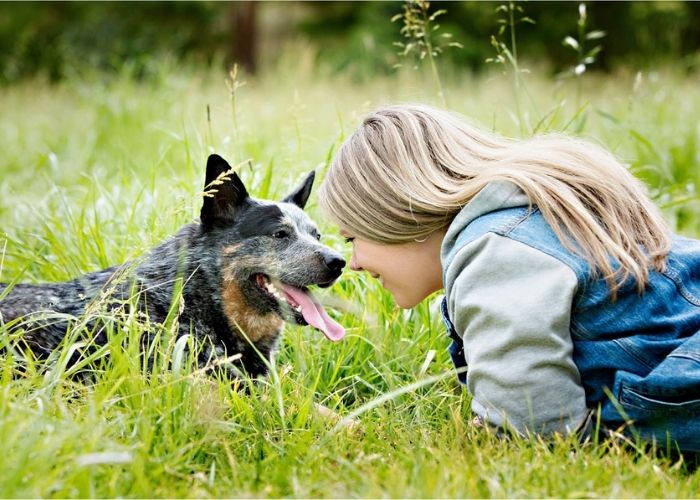 You don't have to be in ALL the pictures
That's right, and we don't have to capture ALL of you in every picture either. We've done sessions where pets have been front and centre, and their owners have been in the background, or only partly in the photographs.
Here are a few great examples of how we've photographed pets and their owners a little more creatively. You don't need to worry about how you look or what you're wearing, your pet loves you no matter what, and we're here to capture that love and the special relationship you have with your them.
The pet photos will be more memorable for you
Your pet photography experience will be much more memorable for you and the rest of your family if you're all involved. Every time I look at a picture of my old dog, it brings tears to my eyes and a twinge to my heart. But every time I see a picture of us together, it brings back that moment and the happiness I felt with her.
As a professional pet photographer, it's important to me that I deliver not only beautiful cat and dog photos (or lizard or bird or turtle or guinea pig photos), it's important that the moments are captured, and the feelings within them are captured as well.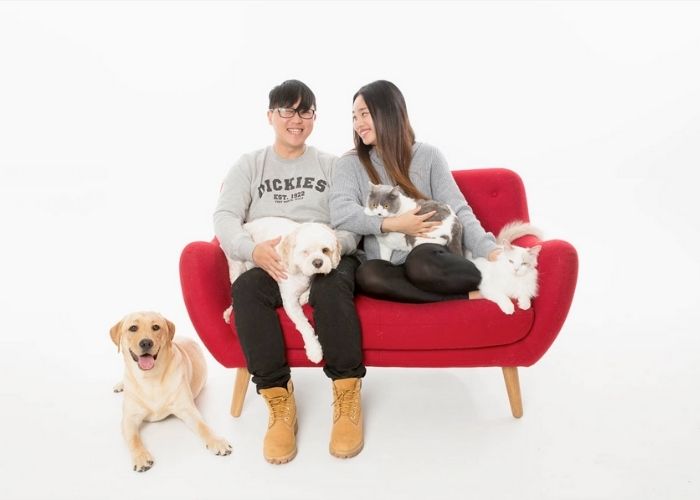 Are you ready for your next Professional Pet Photography experience?
We are ready for almost anything over here at JHP Photography, and we feel that almost any moment spent with your pet is a moment worth capturing in a photograph. If you have a specific look or backdrop in mind for your pet portraits, let us know, and we will accommodate you. If you're not sure what kind of pet photos you want, that's okay too; that's what we're here for.
In the end, these are your photos, your precious memories. The session is all about you and your beloved pet. And we're comfortable with pretty much whatever you're comfortable with.
Whether it's dog portraits, cat portraits, or any other type of animal portraits, we're going to make sure that you have a fun, enjoyable, and stress-free portrait session when you choose our Melbourne pet photography business.