Whether you've just welcomed a furry friend into your home, or have one who's been a part of the family for years (if not decades) – taking time to get dressed up for a dog or puppy photo shoot is a great way to mark a special occasion…  Or have done 'just because'…  Like most pet owners, you probably have files and files of photos and selfies with your pet on your phone.  But if you're reading this, you're probably looking for those special shots to blow up for your walls at home.
Whether you've heard about JHP Studio through word of mouth, stumbled across us in your searches or were specifically looking for us – we wanted to share our top three tips when it comes to planning the perfect pet photography session.
Tip 1: Knowledge and Experience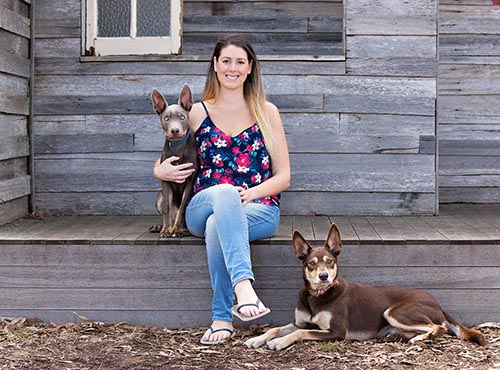 There are a lot of professional photographers out there so it can be extremely hard to find the best photographer for you.  Unless you've found out about a photographer through referral, where you've seen and like their work – the first thing you may want to check is if they're an AIPP Accredited Photographer.  When photographers are accredited by the Australian Institute of Professional Photography, it means they've met some standard guidelines around years in business, as well as proving they've generated a regular income as a photographer. This helps ensure that the photographer you're considering working with didn't just purchase a nice camera yesterday, and is now calling themselves a 'professional photographer' today.
Once you have established this baseline accreditation and experience, the next thing you'll really want to check is that they have the knowledge and experience as a pet photographer who has experience shooting quality dog portraits for example, not just photography in general, or even portrait photography.
What's the difference between portrait photography and pet photography
There's no doubt that portrait photographers will be able to take great shots of people. However, one of the main reasons you want to make sure that your professional photographer not only has experience in portrait photography, but also pet photography is because a good pet photographer will be able to make sure that they don't just have good photos, but also make sure your pet is comfortable with the process and not stressed out from the flashes, clicks and repositioning that most photo shoots come with.
A good Melbourne pet photographer will be able to make sure that your pet is happy throughout the whole photo shoot. The reason this is so important, is because the more comfortable your pet is the better your photos will be. If your pet is stressed throughout the photo shoot, it's really going to show in the photos, and in most cases means the photo session will be cut short. This means you'll probably have a stressed out pet for the next couple of days, fewer shots to choose from, and could also mean that your pet will be less likely to want to do another photo shoot again.
Tip 2: Studio and Backgrounds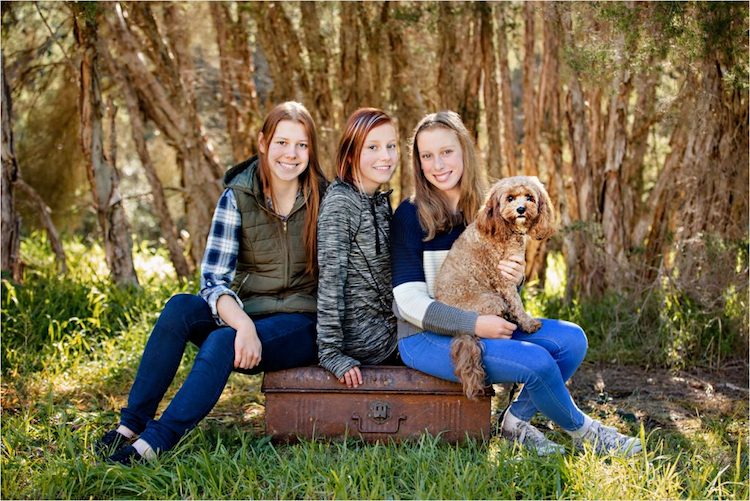 When you've found a good pet photographer who has the knowledge and experience you're looking for, the next tip is finding one that either has a professional studio with good lighting and equipment and a range of studio or outdoor backgrounds.
Most photo studios will have plain backgrounds you can choose from based on the colour of your pets and what you want to wear, or the mood you want to create. But, what can really make a pet photo shoot stand out is a range of unique, and in most cases, purpose built backgrounds.
At JHP Studio, in our Melbourne based studio we have black, white and a range of colour backgrounds you can choose from. As well as these, we have some purpose-built backgrounds for your photo shoot to make it really stand out, including a secret garden, a cubby house, a country lane and even a graffiti background. If you and your family have a particular area around your house, or a specific location you like to spend your weekends at, get in touch with the team to talk about a location shoot somewhere in Melbourne to create and capture those special moments.
Tip 3: Prints and Products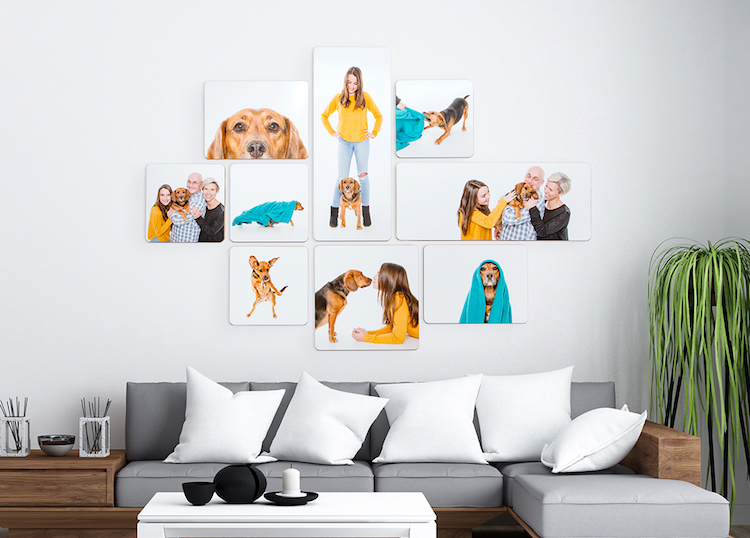 The last tip we wanted to share when planning the perfect pet photography session is seeing what prints and products your professional photographer has to really showcase those beautiful pet photos. Whilst it may seem good enough to have the images in a digital format so you can print them online, in a lot of cases the print quality isn't as sharp or rich which can really take away from the magic in each image. This is where a true professional photographer can really ensure that your perfect session is not only a good experience, but one that really stands out in your home.
JHP Studio will make sure you don't just have pet photos, we'll make sure you have a real piece of art for your home. We can professionally print on a range of surfaces including canvas, framed, metal or even wood. You can have a large hero print, or even collage of prints to showcase in your lounge room or living area. We also know that these pieces of art don't need to just be limited to your walls, and can be showcased on your table or mantelpieces. This is why we can also create albums, portrait boxes and more to show off your photo shoot in a range of finishes.
With the knowledge and experience JHP studio has in pet photography, we can help you choose the right combination of prints for you, your family, your pet and your home
Planning the Perfect Pet Photography Session
As you can see there's a lot to take into account when planning the perfect photography session. At JHP studio we have decades of experience in not only portrait photography and commercial photography, but specifically, pet photography. This means you won't only have a photo shoot that you and your pets are going to love, but one where you know the final product will be showcased in a range of professional pet photography products no matter where they're placed in your home.
If you'd like to find out more about how JHP Studio can capture those perfect moments with you and your furry friends, get in touch with the team now and plan your session either in our studio, with one of our purpose-built backdrops, or in your ideal location.